E-Balance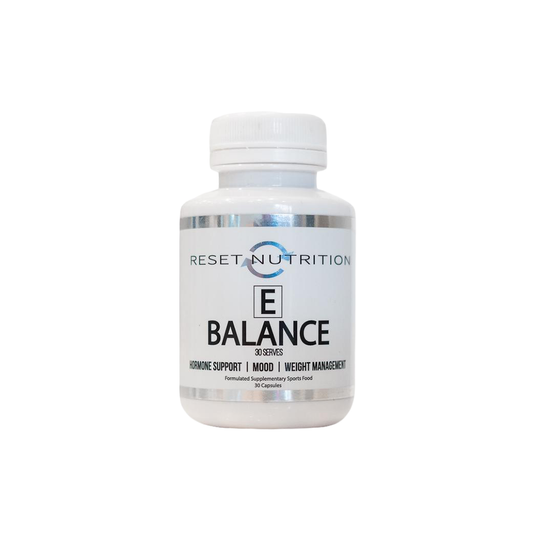 30-days

Money back guarantee*

Afterpay

Order now, pay later

Free Gift

With every order

SAME DAY DISPATCH

For all orders placed before 1pm (AEDT)!
Description
Reset Nutrition's E-BALANCE has been formulated with only the best quality ingredients to bring you the product you know and love.

Elite Supps presents you with the perfect hormone balancer that will help you in many aspects of your life. It can be hard to know whether your hormones are out of whack so here are some of the signs and what E-Balance does to combat this:
WHAT INGREDIENTS ARE INCLUDED IN THE E-BALANCE FORMULA?
The quality ingredients contained in E-Balance, listed below, allow you to take control of your health and how you nourish your body. 
Phosphatidylcholine: 

Is a ubiquitous, naturally occurring phospholipid molecule. It is the major lipid, or fat, of cell membranes and blood proteins. Also known as PC. PC is also necessary for the production of surfactants, which are critical for lung function and gastrointestinal health. 

Diindolylmethane (DIM): 

Plant indole Diindolylmethane (DIM) found in broccoli and other cruciferous vegetables. Helps increase 'good' estrogen metabolites, which simultaneously reduces 'bad' estrogen metabolites.

Smilax Sieboldii (Laxogenin):

Lowers cortisol levels

Lean muscle

Androsta: 

Is an aromatase inhibitor, which helps prevent any estrogen rebound. It is also a naturally occurring metabolite, which helps reduce cortisol (the bodies stress hormone).
Directions for use: Take 1- 2 capsules, once daily.  Capsules can be opened and sprinkled onto food or added to smoothies as desired.
Shipping Information
FREE SHIPPING on all AUSTRALIA orders over $150.
$10 flat shipping fee on all orders under $150.
$24.95 flat shipping fee on all orders from New Zealand.
International shipping cost: $64.95
If you place an order before 1 pm (AEDT) Mon-Fri we will send you your order on the same day.
Your order will arrive within 2- 5 business days.
 Returns Information
We offer a 30 days 100% Satisfaction guarantee or your money back. Please contact us for return requests.