T-Lift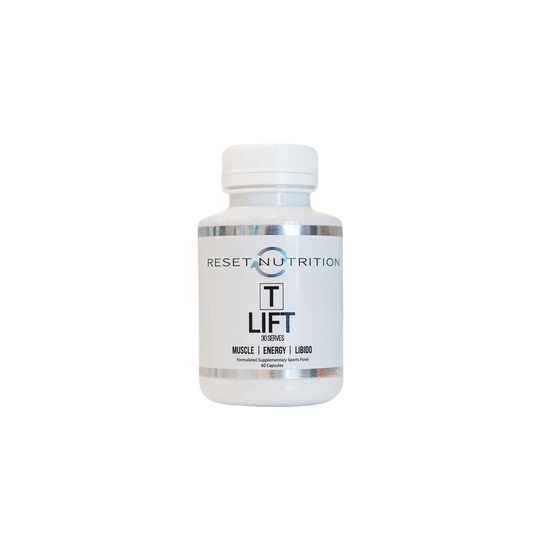 30-days

Money back guarantee*

Afterpay

Order now, pay later

Free Gift

With every order

SAME DAY DISPATCH

For all orders placed before 1pm (AEDT)!
Description
Reset's T-LIFT has been designed to be the ultimate muscle builder, energy provider and to get your libido to its' optimum levels. We have used a combination of natural ingredients to help get your body to its' absolute prime.
This product may help get you going against the grain in the gym, in the bedroom and make daily tasks effortless. T-LIFT can be the key to unlocking anabolic pathways that you have never experienced before.
WHAT ARE THE BENEFITS OF USING T-LIFT?
Increases testosterone levels
Increases muscle strength
Speeds up recovery 
Improves thinking skills
Improves muscle coordination
Improves mood
WHAT DOES INCREASING TESTOSTERONE LEVELS DO FOR ME?
Increasing testosterone levels in the body has proven to be helpful in many ways. There are many benefits that come from increasing your testosterone levels:
Less fat, more muscle
Stronger bones
Improved mood
Better Libido
Ingredients:
Eurycoma longifolia Jack (ElJ): EIJ has been shown to elevate serum testosterone and increased muscle strength in humans.

Boron Citrate: Boron citrate is a mineral and is used for building strong bones, treating osteoarthritis, as an aid for building muscles and increasing testosterone levels, and for improving thinking skills and muscle coordination.

Mucuna Pruiens: Mucuna Pruiens is the best known natural source of L-dopa and is helpful to boost energy and motivation levels, memory, clear brain fog, improve mood and libido.

Shilajit: Shilajit has shown to be a remedy which can be used to treat a number of bodily difficulties, and disease. Modern science has been intrigued by the medicinal use of shilajit and studies have shown that it can have a beneficial impact for, increase testosterone levels, digestive disorders, inflammation, diabetes and many other diseases.

Epicatechin: Research indicates that Epicatechin increases levels of follistatin, a special type of protein found in the muscles, which binds to and thereby inhibits the actions of myostatin in the body. In a nutshell, more follistatin equals less myostatin, which in turn means MORE muscle mass.

Piperine: Piperine is a major alkaloid found in black pepper (piper nigrum), and the alkaloid is used as an herbal product for its purported anti-inflammatory, antioxidant, and antitumor properties which can help speed up recovery.

Directions for use: Take 1- 2 capsules, once daily.  Capsules can be opened and sprinkled onto food or added to smoothies as desired.
Shipping Information
FREE SHIPPING on all AUSTRALIA orders over $150.
$10 flat shipping fee on all orders under $150.
$24.95 flat shipping fee on all orders from New Zealand.
International shipping cost: $64.95
If you place an order before 1 pm (AEDT) Mon-Fri we will send you your order on the same day.
Your order will arrive within 2- 5 business days.
 Returns Information
We offer a 30 days 100% Satisfaction guarantee or your money back. Please contact us for return requests.