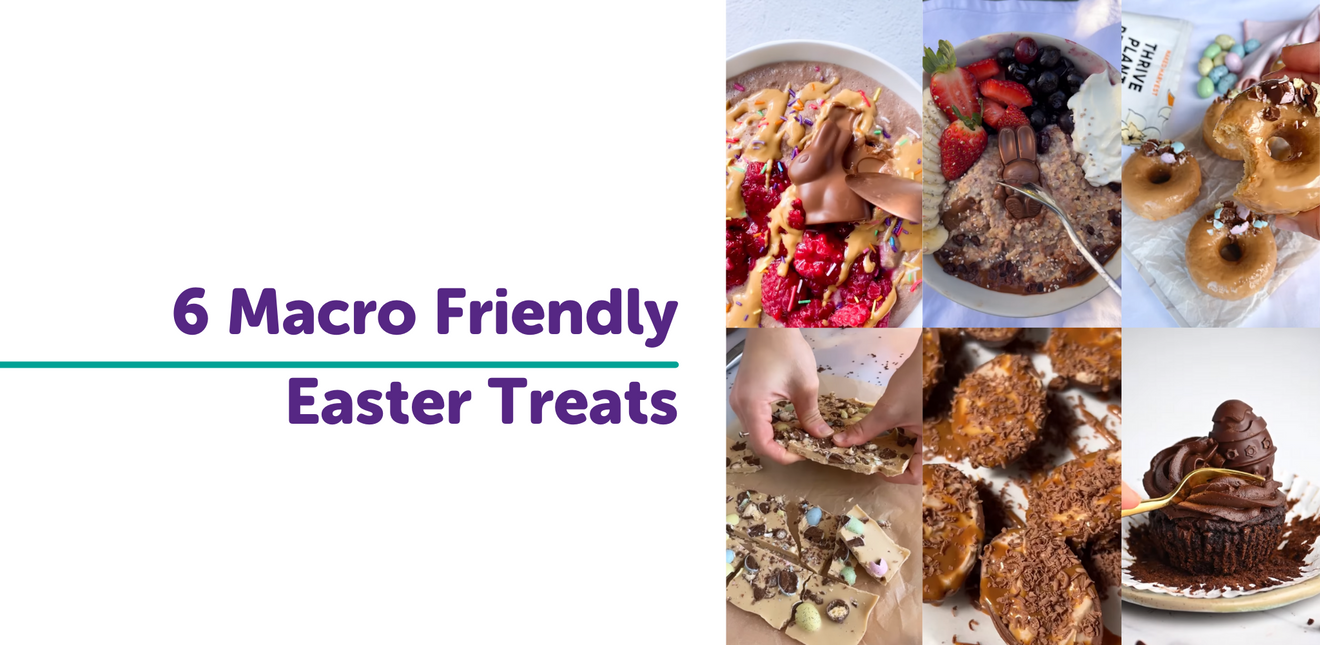 6 Healthy Ways to use leftover Easter Chocolate
Posted in All by Donnelle Brooks
---
Have a bunch of Easter eggs left over? We have some amazingly delicious and surprisingly healthy ways to use all that leftover chocolate - and still hit your macros! We are in LOVE with these indulgent easter treats - and we know you will be too!
---
Vanessa's choc pb oats
We are in LOVE with Vanessa's smooth as silk oat bowls, and this one is no different! Protein oats are so delicious you won't even need to worry about the macros. 
Ingredients
⠀⠀⠀⠀⠀⠀⠀
Method
Add oats, protein powder and a pinch of salt to a pot.

Pour in the almond milk and water, mix until combined.

Cook on low-medium heat for a good 10-15 minutes, stirring occasionally. Patience and slow love makes it uber creamy! 

Pour into a bowl and top with raspberries, PB and choc bunny!
Macros⠀⠀⠀⠀⠀⠀⠀
487 calories

Protein 32g 

Carbs 40g 

Fat 21g
ATP science's 
Collagen Easter Egg Fudge
This Easter egg themed fudge is indulgent, with a healthy hit of collagen protein that is good for you in more ways than one! Collagen protein not only helps your hair shine and your skin glow, it is great for your gut health too! 
Ingredients
2 scoops Noway Vanilla

2 blocks of preferred chocolate

Crushed easter eggs for topping
Method
Melt chocolate in a heat proof bowl

Add Noway and combine until smooth

Pour into a slice tin and add chopped toppings

Set in fridge for minimum 2 hours

Break or slice into desired pieces
Scarlett's Easter Egg Cheesecakes 
The Easter snack you'll be eating every night till Easter and after! Each little 'cheesecake' has 5g of protein- very impressive if you ask us. They look so indulgent our mouths are watering already. 
INGREDIENTS 
4 Cadbury Hollow Hunting Eggs, halved

1 tub 

Yo Pro yoghurt

30g Macro Mike Protein in Choc Caramel

20g nestle caramel sauce
METHOD
Ensure egg halves have been refrigerated, it's easier to work with

Mix the yopro + protein together

Fill your egg halves with the 'cheesecake' filling.

Drizzle that caramel sauce on top. Chocolate shaving optional 😏 (recommended)
Macros
(Per egg half/ mini cheesecake)
80 Cal 

Protein 5g

Carbs 8g

Fat 3g
Macro Mike's Easter protein cupcakes 
These ooey gooey OOOOZING chocolatey centre centre cupcakes can't possible be healthy! But check out those macros - with 265 calories each and 13g of protein this treat will please your sweet tooth plus help you hit your protein goal. Bonus is they are completely vegan too. 
⁠
INGREDIENTS
CUPCAKES:
Applesauce (120g)

Coconut yoghurt (70g)

Almond butter (30g)

Coconut sugar (30g)

Gluten-Free Plain Flour (55g)

Cacao powder (15g)

Chocolate chunks (30g)

Baking powder (1tsp)

Bicarb soda (1/2tsp)
FILLING:
Cacao powder (5g)

Maple syrup (15g)

Almond milk (60ml)
FROSTING:
Dairy-free yoghurt (150g)

Maple syrup (30g)

Cacao powder (12g)
Method
Preheat Oven to 170 degrees celcius and line a muffin tray with 6 cupcake cases.

To make the cupcakes, add the applesauce, yoghurt, almond butter, and sugar to a large bowl and whisk until smooth. Add the protein, flour, cacao, chocolate chunks, baking powder and bicarb soda and fold until combined.

Divide the batter out evenly between the 6 cupcake cases. Smooth out the tops and place in the oven to bake for 17mins. Set aside to cool.

To make the filling, add the cacao and protein to a small bowl and whisk together until there are no lumps. Add the maple syrup and almond milk and whisk until smooth and creamy. Set aside.

To make the frosting add the yoghurt and syrup to a medium bowl and whisk until combined. Add the protein and cacao and fold together until smooth. Add the frosting to a piping bag and set aside.

Once the cupcakes have cooled make a small well in the centre of each of them (save the tops of what you remove). Add 1-2Tbsp of the filling to each cupcake and re-place the tops of the cupcakes.

Pipe or spread the frosting on to each cupcake, top with an easter egg of your choice and enjoy!!
MACROS
(when made into 6 cupcakes)
CALS: 265

CARBS: 28.7g

PROTEIN: 13g

FAT: 10.3g
Naked Harvest's healthier Easter donuts
These amazingly easy and totally mouth watering donuts are made using Naked Harvest thrive plant protein. You'll love the all natural ingredients and to die for easter themed glaze. 
Ingredients
DONUT
1 & ¼ cup almond meal

1 & ½ tsp baking powder

¼ tsp salt

1 tsp vanilla essence

3 tbsp maple syrup

2 tbsp melted coconut oil

2 eggs
GLAZE
¼ cup crushed Easter eggs

¼ cup caramelised white chocolate

2 tsp melted coconut oil
Method
Preheat the oven to 180 degrees and grease donut moulds.

In a medium bowl, whisk together the eggs, vanilla essence, coconut oil & maple syrup until a little bit frothy.

Add in the remaining ingredients and mix thoroughly

Scoop the batter into the donut moulds about ¾ of the way (to allow for rising) and bake for 10-14 mins or until lightly golden.

While leaving the donuts to cool for 3-5 minutes, melt the chocolate and coconut oil in the microwave.

Gently coat the chocolate on each donut and place the crushed Easter eggs on top.

Finish decorating all the donuts & ENJOY!
FUDGEY CHOC OATS 
These decadent chocolate oats are the best way to use any extra chocolate bunnies you have laying around. And they are just so cute! If they weren't so drool worthy we'd have trouble bringing ourselves to eat them 
inGREDIENTS
50g oats (blended)

0.5 tsp baking powder

125mL almond milk

1 Tbsp sugar free maple

10g cocoa powder

40g choc protein pudding (try wicked sister brand)

Toppings: 5g choc baking chips, 1 mini Kit Kat bunny, cacao nibs and fruit of your choice
Method
Combine all ingredients except the pudding and toppings. Pour 2/3 of the batter into a greased ramekin

Put the Choc pudding in the centre and cover it over with the rest of the batter

Put the choc buttons on top

Cook for 22 minutes in a 189 C oven.

Once cooked, put your other bits and bobs on top. And VOILA ENJOY YOUR DECADENT LAVA EXPLOSION.
Macros 
Cal 550 

Protein 37g

Carbs 61g

Fats 19g
We hope you indulge yourself this Easter, and try some of our delicious chocolatey themed Easter treats! If you make any of these recipes be sure to tag us on Instagram! We love to see the delicious goodies our Elite Supps fam cooks up! 


As an Easter treat, you can score 15% off all chocolate flavoured products using the following code at checkout - EASTERCHOCOLATE
---
← Older Post Newer Post →