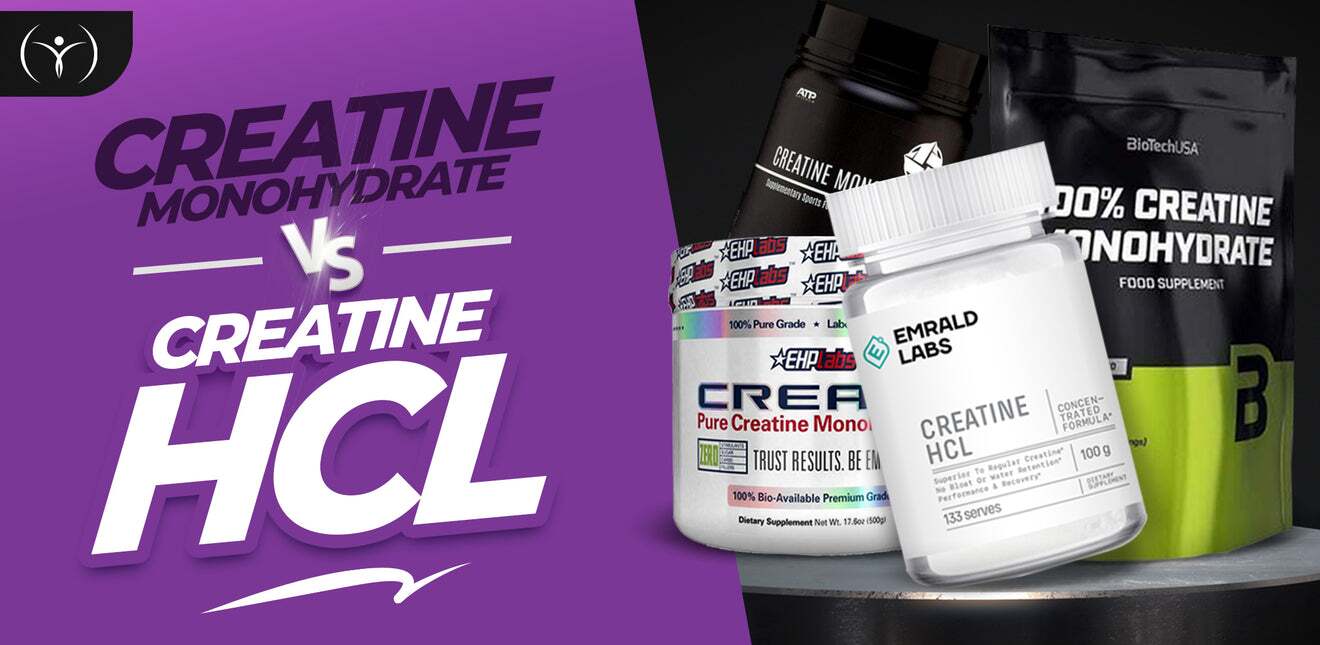 Creatine HCL vs Creatine Monohydrate | Which is best for you?
Posted in All by Elite Supps
---
Anyone who is serious about their fitness and body building journey knows about creatine and its amazing ability to build muscle and improve athletic performance, but not many people know about the various forms available - or how to choose the right one to achieve their individual goals. In fact, did you know that there are over ten different forms of creatine available on the market and that while each claim a particular benefit over the others, only a few have been shown to be effective in human studies?

If this sounds daunting read on! The team at Elite Supps know that you make a considerable investment both in terms of your time and money to reach your goals so we have done the research for you!
What types of creatine are there?

There are many different forms of creatine - more than 10 to be exact! The two main types - and best studied - of creatine on the market are creatine HCL and creatine monohydrate. If you're already adding creatine to your supplement regime chances are it's in one of these two forms and for good reason. Both have been shown to be effective in terms of effectiveness and availability. Let's break them down and find out once and for all, which is better: Creatine HCL or creatine monohydrate! Let's start with a quick look at each.


Creatine Monohydrate
Creatine monohydrate is the most common variant used in supplementation and has been the subject of numerous human studies. These studies have found that its consumption may increase strength gains by up to 10% for male and female athletes when used in conjunction with regular training. Further studies have shown that it can improve aerobic performance, particularly during high intensity activities - so perfect for getting more out of your next HIIT class or sprint shred session! 
The benefits don't end at the gym. Studies have shown that creatine monohydrate may also improve cognitive function, with one study indicating a 20% improvement on aptitude scores and a whopping 50% improvement on memory testing for subjects after regular supplementation.
The downside to creatine monohydrate is that it may cause bloating and fluid retention in some users. In addition to this it requires a complicated loading phase for optimal results and this is where creatine HCL comes in.
Creatine HCL
Creatine HCL has all the benefits of creatine monohydrate, but has safely been enhanced to improve absorption and stability through the addition of hydrochloric acid at the molecular level. This makes it 38 times more dissolvable than creatine monohydrate meaning that its more easily absorbed and available in your body. 
This is mainly due to the relationship between creatine and water, older forms of creatine require large amounts of water to aid absorption, with an imbalance leading to fluid retention (bloating) and stomach upsets. Creatine HCL requires much less water for absorption reducing the risk of these issues. Additionally, creatine HCL is 60% more easily absorbed by your intestines than older forms of creatine meaning that it is more likely to be used by your body than it is to be excreted out in your urine. 
This means you get the same amazing results as creatine monohydrate with a much lower dose resulting in:
Less bloating
Less fluid retention
Less risk of stomach upsets
Less risk of cramps
No need for a loading phase so you use less product meaning more value for your money
So creatine HCL requires a lower dose, but how much creatine HCL can you take in a day? We recommend 1 gram per 100kg of bodyweight. The good news is you can't really take too much. Your body will just excrete any extra that it doesn't use.
What is the main difference between creatine HCL and creatine monohydrate?
Both forms of creatine provide important benefits for performance and muscle growth. The main difference between them is chemical composition. Creatine HCL is bound to molecules of Hydrochloric acid whereas creatine monohydrate is bound to molecules of water. This affects the way they are broken down and absorbed. That's the sciencey stuff, let's look at how that actually affects the supplement's performance.
Absorption
This is the biggest strength of creatine HCL. It is much more water soluble than creatine monohydrate. That makes it easier to mix up, and easier for the body to break down. Why is this important? Two reasons. Firstly, nobody wants a gritty shake. Secondly, it means that the creatine is available for your body to use sooner. So on this one, creatine HCL is the winner.
Effectiveness
There is a lot of evidence that proves the effectiveness of creatine HCL as a fitness supplement. Not the case with creatine HCL. This isn't to say that it doesn't work - just that there haven't been as many studies done on it. This is mostly due to the fact that creatine monohydrate has been available for a lot longer. So therefore we have to say that creatine monohydrate wins this one. 
Cost 
Creatine monohydrate wins this one too. Whilst creatine HCL requires smaller doses, creatine monohydrate still ends up being cheaper per serve. 
Convenience
Creatine HCL is easily available in capsule form. That makes it a very convenient choice for gym goers. It is a lot easier to take a capsule than it is to mix up a shake every time you want to dose up on creatine. Even if taken in powder form, creatine HCL only requires about a quarter of the does than creatine monohydrate does. It also mixes up easier than creatine monohydrate. Creatine HCL wins this category by a mile!
Purity
Of the two, creatine monohydrate is the purest form of creatine. Creatine HCL is about 78% creatine by mass, whereas creatine monohydrate is about 90%. This is because it is bound to water rather than hydrochloric acid - which is a much larger molecule. 
Our Verdict
There's no doubt that creatine is one of the most beneficial supplements to invest in for improved muscle mass and aerobic performance. While creatine monohydrate offers amazing results and has been a staple in supplementation programmes for years, creatine HCL offers distinct advantages in its availability and absorbability meaning the same gains with fewer unwanted side effects. Try making the switch to HCL from your old creatine products and let us know your results! Share your views and results with enquiries@elitesupps.com.au and we would love to hear your feedback and provide our own. Please see below for our extensive range of creatine's and right now
Emrald Labs is giving

20% OFF

their Creatine HCL with the code:

CREATINE
---
← Older Post Newer Post →