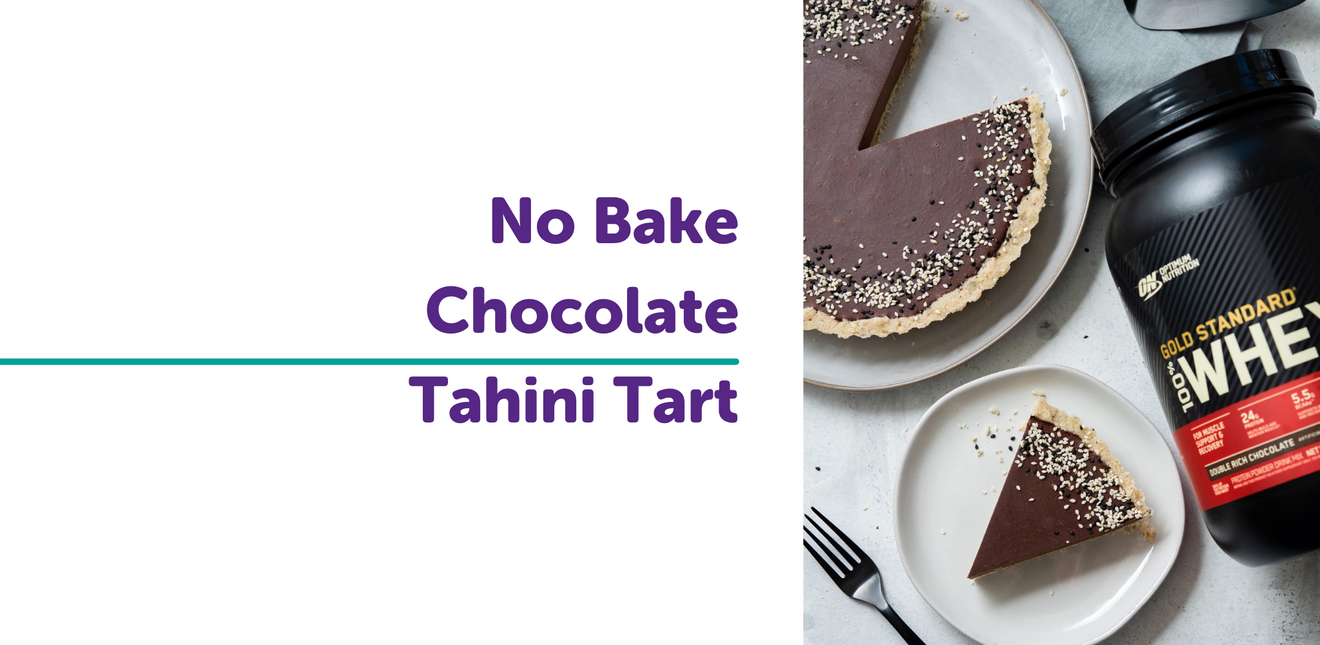 No Bake Chocolate Tahini Tart
Posted in All by Donnelle Brooks
---
Who doesn't love a rich and fudgey chocolate tart? If you are a fan of Optimum Nutrition's Double Rich Chocolate protein powder - then this is for you! We recommend using it for this recipe, although subbing out another chocolate protein powder may work - double rich chocolate will get you the best results. 

INGREDIENTS
CRUST:
1 ½ cups fine almond flour
½ cup walnuts (or pecans)
1/3 cup granulated monkfruit sweetener
1 tsp sea salt
2 tsp sesame seeds (white, black, or a mixture of both)
1 tsp vanilla
¼ cup melted coconut oil
CUSTARD FILLING:
250 grams dark chocolate chips
1 ½ cups full-fat coconut cream
1 TBSP pure maple syrup
½ tsp sea salt
1/3 cup tahini
Optional: Additional sesame seeds for garnish
METHOD
Prep Time: 20 Mins
Cooking time: 2-8 hours (chills in fridge to set)
For the crust, place all ingredients except for the coconut oil in the bowl of a large food processor and mix/pulse until a sand-like consistency is reached. Then, with the food processor running, slowly drizzle the melted coconut oil into the mixture until it just starts to come together. Pour the mixture into your 8-inch tart pan and using your fingers firmly press it into the bottom & sides forming your crust. Place in the refrigerator to cool while you make your custard filling.
To make the filling, place the chocolate chips, coconut cream & Gold Standard Whey in a saucepan over medium heat, slowly whisking until the chocolate is melted. Once melted & silky, remove from the heat and stir in the maple syrup, salt & tahini until well-combined.
Remove the crust from the refrigerator and pour in the filling. Return the entire tart to the refrigerator and chill to set for at least 2-3 hours, but preferably overnight.
When ready to serve, garnish tart with additional sesame seeds if desired, slice & enjoy!
We love this unique and healthy recipe from Optimum Nutrition! Their Gold Standard Whey is a staple for so many of our Elite Crew. We have a little secret for you if you are short on time too - try buying a ready made tart case, and this recipe becomes a lot quicker! It will affect the macros below so keep that in mind. 
Macros 
Calories 557
Protein 10g
Carbs 37g
Fat 46g
Head to this recipe on Myfitnesspal to log it - nice and easy! 
Make sure you tag us on Instagram when you get busy in the kitchen making healthy treats. We love seeing you get creative in the kitchen! Take a look at Optimum Nutrition's range of Whey Protein - it is one of the most delicious on the market. 
---
← Older Post Newer Post →