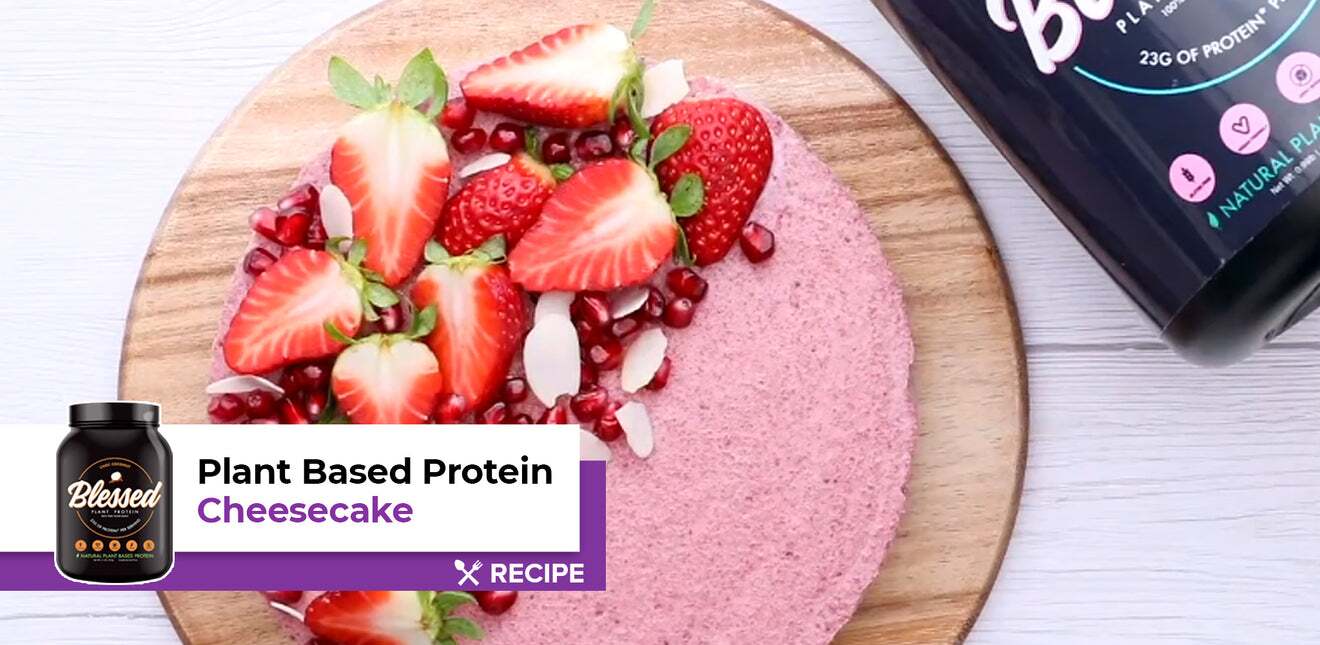 ---
Wondering what to make on your next baking conquest? Try this Plant-Based Strawberry Protein Cheesecake! it's delicious, jam packed with goodness and so easy to make. 
Blessed Protein is the all-natural pure golden pea protein isolate contains 23g of protein per scoop at only 4g of net carbs, and all of the essential amino acids. 
PREP TIME: 30M | SERVINGS: 8
Ingredients:
For the base:
1 cup almonds

2/3 cup fresh dates, pitted
For the filling:
2 cups cashew nuts, soaked overnight

2 tbsp lemon juice

1 tsp pure vanilla extract

1/3 cup maple syrup

½ cup melted coconut oil

2 cups strawberries

2 scoops Blessed Protein
Method:
To make the crust, place the almonds and dates in a food processor and pulse until combine.

Grease an 8 inch springform pan and line with parchment paper.

Press the mixture firmly and evenly against the bottom of the cake pan.

To make the filling, rinse and drain well cashew nuts.

Place them in a high power food processor.

Add the lemon juice, vanilla extract, maple syrup, coconut oil and Blessed Protein and blend until smooth.

Add the strawberries and process until well blended.

Pour the filing over the cake base and refrigerate overnight.

Decorate as you wish, slice and serve.
Nutrition Facts:
Amount Per Serving
Calories: 350
Calories from Fat: 214
Total Fat: 25g
Saturated Fat: 10g
Trans Fat: 0
Cholesterol: 0mg
Sodium: 48mg
Total Carbohydrate: 26g
Dietary Fiber: 4g
Sugars: 14g
Protein: 11g
---
← Older Post Newer Post →