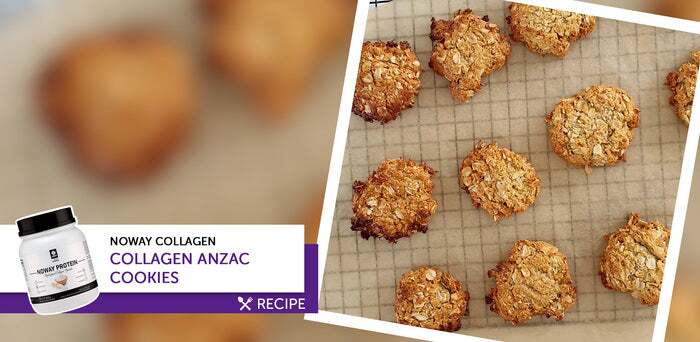 COLLAGEN ANZAC COOKIES
Posted in All by Elite Supps
---
A crowd favourite cookie with a twist. The added collagen in these ANZAC cookies helps increase that which is lost naturally as we age.
Collagen supports skin, joints, ligaments and gut health to heal, regenerate and strengthen without changing the taste of a recipe.
Ingredients:
1 cup of rolled oats (Quinoa Flakes can be used as an alternative)
½ cup buckwheat flour
½ cup desiccated coconut
2 scoops unflavoured Noway
Pinch of salt
½ tsp bi-carb soda
1/3 cup coconut oil
4 tbs raw honey or sticky sweetener
Method:
Heat oven to 180C. Line a baking tray with baking paper.
Combine all dry ingredients together in a large bowl, except bi-carb soda.
Melt coconut oil and honey together over low heat in a small saucepan, stirring to combine. Remove from heat.
In a small cup mix bi-carb soda with 2 tsp water, add to coconut oil and honey mixture and stir well so that mixture becomes aerated and foam-like.
Pour wet mixture into dry and stir well.
Spoon 1 tbs sized ball of mixture and flatten into a cookie on a baking tray. Repeat with the remaining mixture.
Bake for 15 minutes or until golden. Allow cooling on the tray for 5 minutes then transfer to wire rack. Once cooled store in an air-tight container.
Enjoy!
---
← Older Post Newer Post →