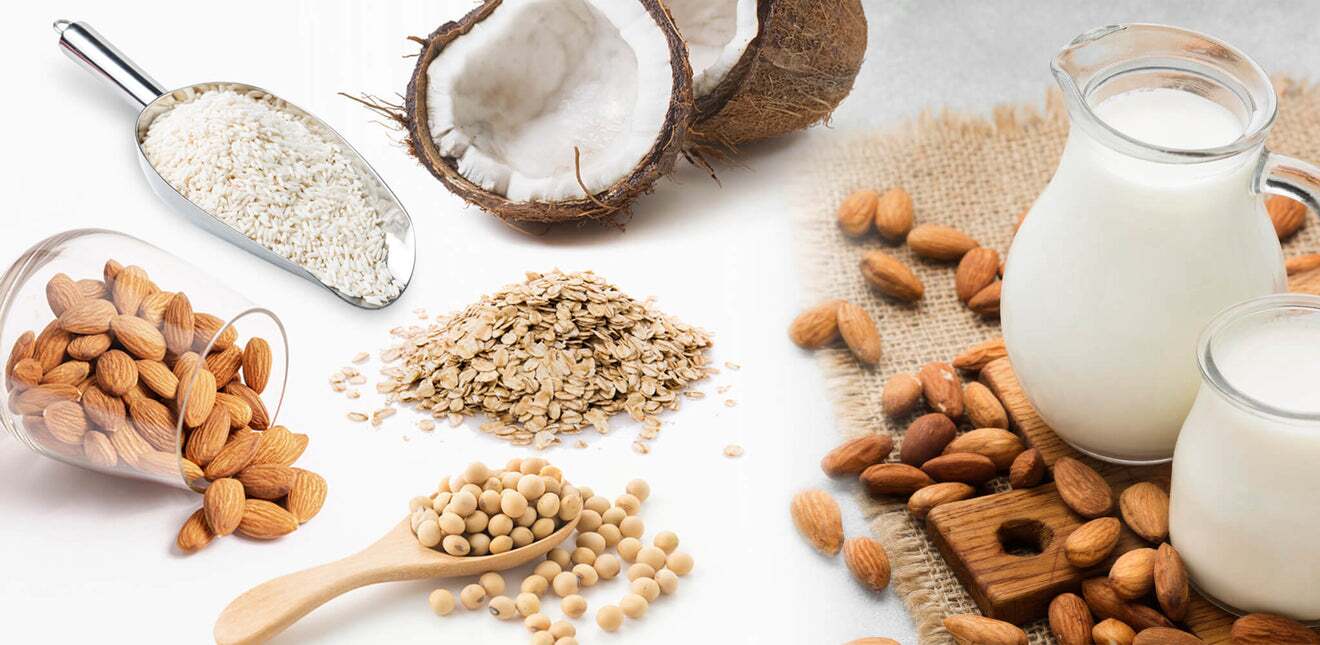 Dairy Free Milks - The Alternatives
Posted in All by Elite Supps
---
Looking at Dairy-Free Alternative Milks
There are a number of reasons why people may choose alternative milks and steer away from dairy. These could include allergies, lactose intolerances, vegan preferences or maybe you just don't like how it tastes.
The number of alternatives continues to rise, but here I will give you a brief overview of the main alternatives, what they are good for and help you discover which suits your needs best.
SOY MILK
Soy has been continuously proven to be the most nutritionally balanced and sound following cows milk. It quite often gets labelled as "the best alternative" for this reason. The calories, protein and fat quantities are comparable, and contains similar levels of calcium to cows milk. Soy milk is also cheap and comes in a wide variety of flavours, sugar-free, fat-free etc.
ALMOND MILK
Mostly made from water and almonds this milk comes with lower calories, meaning lower nutrients also. Because of this, it means most almond milks are seriously fortified so you need to be careful which ones you are getting as some contain primarily monounsaturated fats and some have minimal calcium. Although probably one of the better tasting milks, the lack of protein is somewhat concerning.
COCONUT MILK
Coconut milk is higher in fat, has a good level of potassium and is lower in carbohydrates compared to nut and grain-based milks. It is higher in saturated fat and the creaminess may make you feel fuller for longer but is also low in calcium and protein. The good thing about coconut milks, they generally offer a daily dose of your required vitamin B which helps with energy levels.
OAT MILK
Surprisingly has more calories than most almond milks. That said however has lower protein than cows and soy milk. Oat milks are often fortified with fibre making them more filling. Be careful because not all oat milks are fortified with calcium and they may not be friendly for the gluten-free.
RICE MILK
One of the least nutritionally balanced milks. Rice milks tend to be low in calories, protein, fat and most contain added sugar. If it doesn't have added sugar it tends to be twice as high as soy milk with natural occurring sugar anyway. Where could this benefit you? With a higher carbohydrate and sugar content, it might be useful in a pre-workout snack.
Are you looking to add some
dairy-free protein supplements
to align with your milk?
Check out these awesome products:


BioTech USA Vegan Protein
Unlike products with animal ingredients, plant-based foods are not complete
protein sources, which means that they do not contain all the essential amino acids our body requires. However, it is possible (with a combination of different vegetable protein sources) to obtain a protein complex of complete value. In Vegan Protein we have achieved this result by combining two protein sources that complement each other perfectly. The product contains a high protein dose of 74g per 100g, a special addition of quinoa flour, acai and goji berries. You will also find arginine and glutamine to improve the strength of your muscles. The product does not contain gluten or lactose. Protein perfect for vegans and people who value good taste.
ORDER HERE-->




ANS Performance Fresh1 Vegan
A brand very close to our heart here at Elite Supps, ANS Performance brings to
you the GAMECHANGER to shake up the vegan category with the all new Fresh 1 Vegan Protein. ANS Fresh1 Vegan has 21g of protein per serving from a blend of pea, brown rice, and pumpkin seed protein. If you thought that wasn't enough, it also is supercharged by a quinoa and lentil superfood matrix to give your body all the goodies it needs. Fresh1 Vegan Protein has Zero Sugar, No gluten, No Artificial Ingredients, and Artificial sweeteners only.


ORDER HERE-->






ATP Science Noway Protein
ATP Science introduces their brand new protein, Noway Protein. A top of the
market BodyBalance protein with Hydrolyzed Collagen Peptides. This protein is a specific combination of bioactive dietary peptide from hydrolysed bovine collagen. It is made using a unique process recreating a digestive process with specific acids and enzymes capable of making a specific functioning blend. Every batch is tested to confirm the presence and activity of the specific peptides to ensure efficacy and consistency.


ORDER HERE-->






Emrald Labs Grass Fed Collagen
This collagen is the purest form and best quality you will find on the market today.
It is Non-GMO, grass fed hydrolysed collagen peptides. Collagen is the body's most important building block and it makes up approximately 30% of the proteins in our bodies. Collagen is a key structural protein that ensures the cohesion, elasticity and regeneration of all our connective tissues including skin, cartilage and bones. With age, less collagen is produced naturally by our body, and the first signs of aging start to occur. As from around the age of 30 and accelerating in our 40's, loss of collagen affects all the connective tissues, such as skin, joints and bones.


ORDER HERE-->


Don't miss our next blog about the new 'extra' fancy alternative milks that you will find here -->.
---
← Older Post Newer Post →