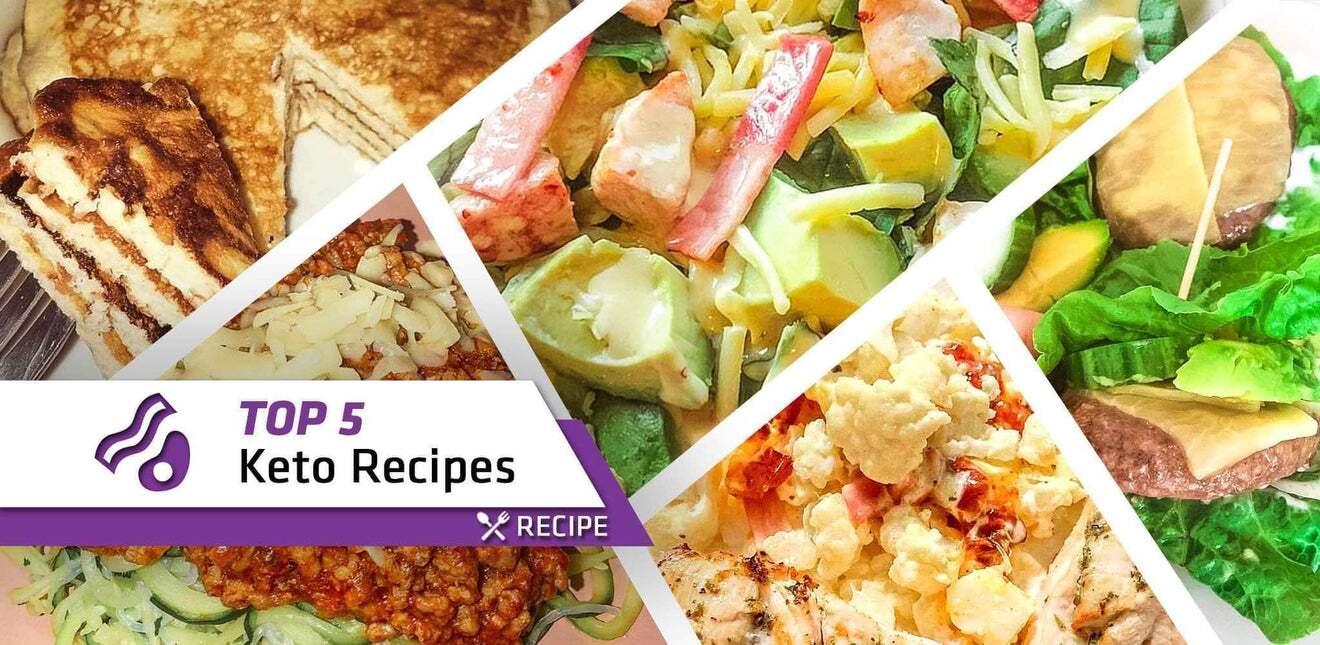 ---
A realistic way to get into shape does not only involve how often you train, what supps you take but also what you're putting in your body. Trying a new diet plan can be really tough: what to avoid, what to eat more of, and what new ingredients you need to buy - takes a lot of adjustment!
The ketogenic diet has been gaining momentum lately. I say keto diet is one of the most effective that I've come across and one of the more straightforward (as opposed to easy!) to follow. In a nutshell, when you're on a keto diet, you eat a very low-carb, high-fat diet.
That means goodbye pasta and bread, hello cheese and oils. It's pretty much the opposite of what we've been taught our entire lives. But it works!!!
What makes the keto diet work so well is that, with little glucose from carbohydrates in our bodies, we have to burn something else — fat — for energy. The keto diet can cause the body to burn fat quite quickly (YEY!).
Eating keto doesn't mean eating just any kind of fat or stuffing your face with chocolates. Instead, it's about mindfully choosing foods that are high in healthy fats and low in carbs.
Make your keto lifestyle simple and delicious! Check out these top 5 Keto Recipes from our Elite Supps Athlete @jazgoesfitspo. Simple and tasty keto high in fat, low in carb and ketolicious — just how you like it.
Cauliflower and Bacon "Mac & Cheese"
This baked keto cauliflower mac and cheese casserole is filled to the brim with cheesy goodness but without all the carbs.
Ingredients:
100ml thickened cream
30g cheddar cheese
30g cream cheese
50g bacon
Tsp minced garlic
100g cauliflower
Paprika
Salt & pepper
Method:
Chop up cauliflower into small florets and steam for a few minutes until slightly tender then add to baking pan.

Chop up bacon and cook - then leave to the side.

In a pan on the stove, add the thickened cream, cream cheese, minced garlic, and spices (feel free to add your own) mixing regularly until all melted and texture is thickened.

Pour mixture over cauliflower then add cheddar cheese on top

Put in oven on 180 degrees for 25-30 min or until cheese has browned slightly.

Enjoy! Makes a perfect side dish with some chicken breast!
Keto Burgers
A delicious burger needs no bun! Keto satisfaction guaranteed!
Ingredients:
100g Beef Mince (or your choice of protein)
Ice Berg Lettuce
Tomato
Red Onion
Heinz American Mustard
Kewpie Mayo
Cheddar Cheese
Egg
Avocado
Coconut oil
Method:
Prepare protein, press beef mince into patties and add to pan to cook with coconut oil

Start cooking the egg - any way you wish

While patties are cooking, prepare the lettuce bun by carefully taking apart leaves.

Add fillings to the lettuce cup (tomato, red onion, avocado)

When beef patty is cooked leave aside and add the cheese on top to slightly melt.

Add patty to the lettuce bun and add sauces (mustard & mayo)

Add egg, and enjoy!
Cream Cheese Pancakes
These Keto Cream Cheese Pancakes are super easy to make! Guaranteed keto friendly, low carb, gluten free and diabetic friendly!


Ingredients:
50g Cream 
3 eggs
Sugar-Free Maple Syrup
Pinch Cinnamon
TBSP Psyllium Husk
Pinch Baking Powder
Berries
Coconut oil
Method:
Add cream cheese, eggs, cinnamon, psyllium husk, baking powder to nutribullet or any blender you may have.

Leave mixture aside for 5 min to thicken

Spray or add coconut oil to the pan and pour the first pancake.

Flip when bubbles form on the top of the pancake

Repeat!

Add sugar-free maple syrup for sweetness and your choice of berries- Enjoy!
Zoodle Spaghetti Bolognese
Keto Spaghetti Bolognese is a mix of delicious tomato based beef mince (ground beef) served with my latest and greatest zucchini noodles recipe that will rock your day!
Ingredients:
150g Beef Mince
1 Zucchini
Pete Evans Bolognese Sauce (or any low carb sauce)
Parmasan/Cheddar  Cheese
Cup Spinach
Garlic Powder
Coconut oil
Salt & Pepper
Method:
Add Beef mince to the pan with coconut oil and add garlic powder or your choice of spices.

After beef is cooked add the jar of Pete Evans sauce, then add about 30ml water to the empty jar, mix then add the water to the pan also. Turn down the pan to low heat and let simmer for 10-15 min

Add a cup of spinach and stir through sauce

Prepare zucchini noodles by using a spiraller (mine is from kmart)

Add zucchini noodles to the boiling pot for 5 min and then strain

Then either adds your Zucchini noodles to the pasta sauce pan or place on the plate and add pasta sauce on top

Add some parmesan or cheddar cheese on top!
Keto Caeser Salad
Caesar salad is a staple salad recipe for a reason! Crisp romaine lettuce, parmesan cheese and crumbled bacon are tossed in a rich low carb caesar dressing.

Ingredients:
150g Chicken Thigh/Breast
50g Bacon
Half Avocado
Walden Farms Caeser Dressing (or any low carb dressing)
1/2 cups Cos Lettuce
Cherry Tomato
Parmesan or Cheddar Cheese
Method:
Prepare and cook chicken breast and bacon.

While chicken is cooking prepare salad

Once meat is cooked add to the salad and finish with caesar dressing and your choice of cheese!

Enjoy!
---
← Older Post Newer Post →