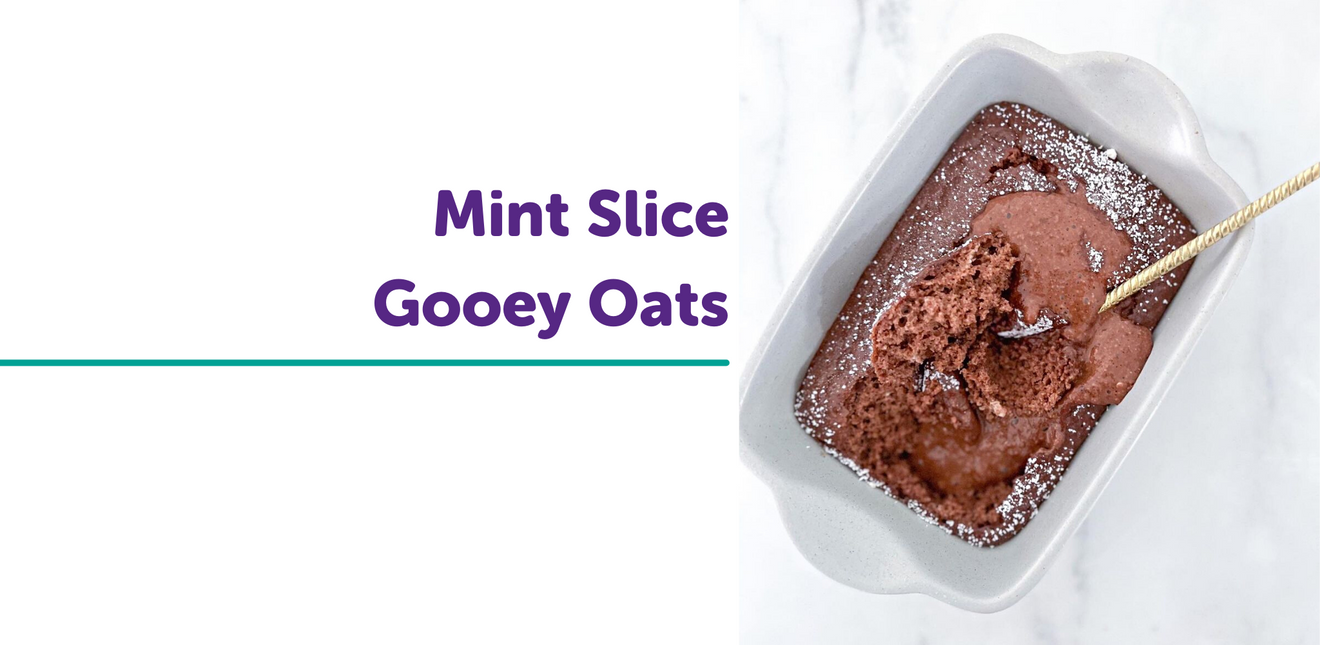 ---
Stuck in a breakfast rut? This delicious baked oats recipe screams decadent dessert, but with 35g protein and just over 400 calories it sure had us fooled. It's quick and easy to whip up and will be a smash hit at the breakfast table.
---
If you're a fan of mint slice, take a seat and listen UP 📢 This delicious breakfast treat is healthy, will fit into your daily macro goals AND tastes exactly like a mint slice bikkie 🍪 Oats are a great option for breakfast, but it is so easy to get stuck in a rut of the same old oats day in day out. Not so with these oats! 
This recipe was put together by the super talented @tam_fitness_ using Rule 1 protein powder in Mint Chocolate Chip. We love Tam's healthy and delicious recipes! This one is quick and easy enough to whip up before work, or to treat yourself on a Saturday morning. 
Ingredients
45g quick oats

3g baking powder

15g avalanche sugar free hot choc powder

80ml unsweetened almond milk

35g high protein plain yoghurt

15ml sugar free maple syrup

15g dark chocolate (about 2 squares)

2g icing sugar
A note from Tam: You do need the Rule 1 Protein in mint chocolate chip whey protein to make this happen & I promise you, it will not go to waste 😋
Method
Place your quick oats, Rule 1 Mint Chocolate Chip Protein Powder, sugar free hot chocolate & baking powder in a blender and zap it til its mixed well and the oats are nice and fine. 

Transer to a bowl and add protein yoghurt, unsweetened almond milk and sugar free maple syrup and mix thoroughly. Now you've got your oat mix!

Pour 3/4 of your oat mix into a ramekin, add your dark chocolate (2x pieces) to the centre & cover with remaining oat mixture.

Bake in the oven for 15 mins on 180 degrees

Remove from the oven and sprinkle with icing sugar to finish.
Nutritional information
414 Calories

40g Carbs

9g Fat

35g Protein
One more thing: Tam has recommended specific brands and amounts for this recipe. If you are counting calories and/or macros and want your nutritional information to be accurate, make sure you follow her guidelines. If not, use what you have on hand and have fun with it.
If you are logging your food on MyFitnessPal, here is a guide on how to log the ingredients in this recipe 
If you give this recipe a go, make sure to let us know and tag Elite Supps Australia on Instagram! We love seeing your cooking creations ❤️
---
← Older Post Newer Post →