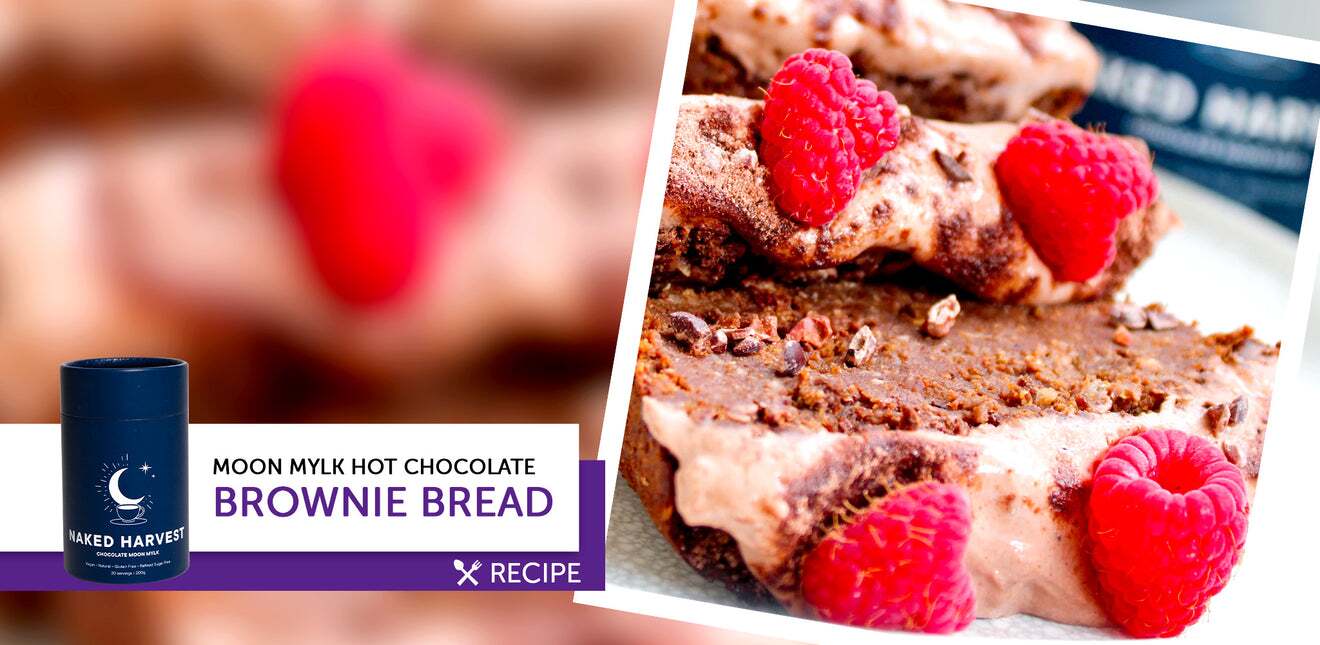 Moon Mylk Hot Chocolate Brownie Bread
Posted in All by Elite Supps
---
If you like good food (obviously, who doesn't!), we only post sought after recipes on this blog. While we believe that healthy food can be tasty, in regards to desert, it's not always easy to find something that checks both boxes. 
If you think clean, nutritious, delicious, healthy brownies couldn't get any better, you must think again. Here, learn the secret by snucking in a secret ingredient that makes it extra extra special. 
Moon Mylk Hot Chocolate Brownie bread features the best selling Naked Harvest Moon Mylk;  A hot chocolate infusion that contains a blend of unique herbs, vitamins and minerals designed to relax your mind & body, and have a calming effect on your nervous system.
While they're healthy enough to eat the entire pan, you likely won't want to, as these brownies are super filling - one small square will be enough to do you in. 
HERE'S WHAT YOU'LL NEED:
200g ripe bananas, mashed
1 large egg, whisked 
120ml liquid egg whites (or 2 extra eggs)
100g NH Chocolate Swirl Thrive Plant Protein OR almond meal
150g Greek yoghurt or yoghurt of choice 
30g hot choc Moon Mylk
1 tsp baking soda
1 tsp baking powder 
Frosting
200g Greek Yoghurt or cream cheese
20g Moon Mylk
Optional: raspberries, for topping
HERE'S HOW TO MAKE IT: 
Preheat oven to 180°C.

To a large bowl, add mashed banana, pea protein,Moon Mylk baking soda, baking powder. Stir to combine. 

Fold through the yoghurt and egg/egg whites, and whisk thoroughly to combine.

Pour batter into a lined loaf, and bake in the oven for 30-35 minutes, or until golden brown on top.

Allow to cool.

Meanwhile, to make the frosting, whisk together Moon Mylk and yoghurt/cream cheese until a buttercream consistency is reached. Spread across cool loaf, top with raspberries and slice into 10 slices.
Serves: 10 slices
Macros per slice:  115 calories, 4g fat, 8g carbs, 12g protein
---
← Older Post Newer Post →