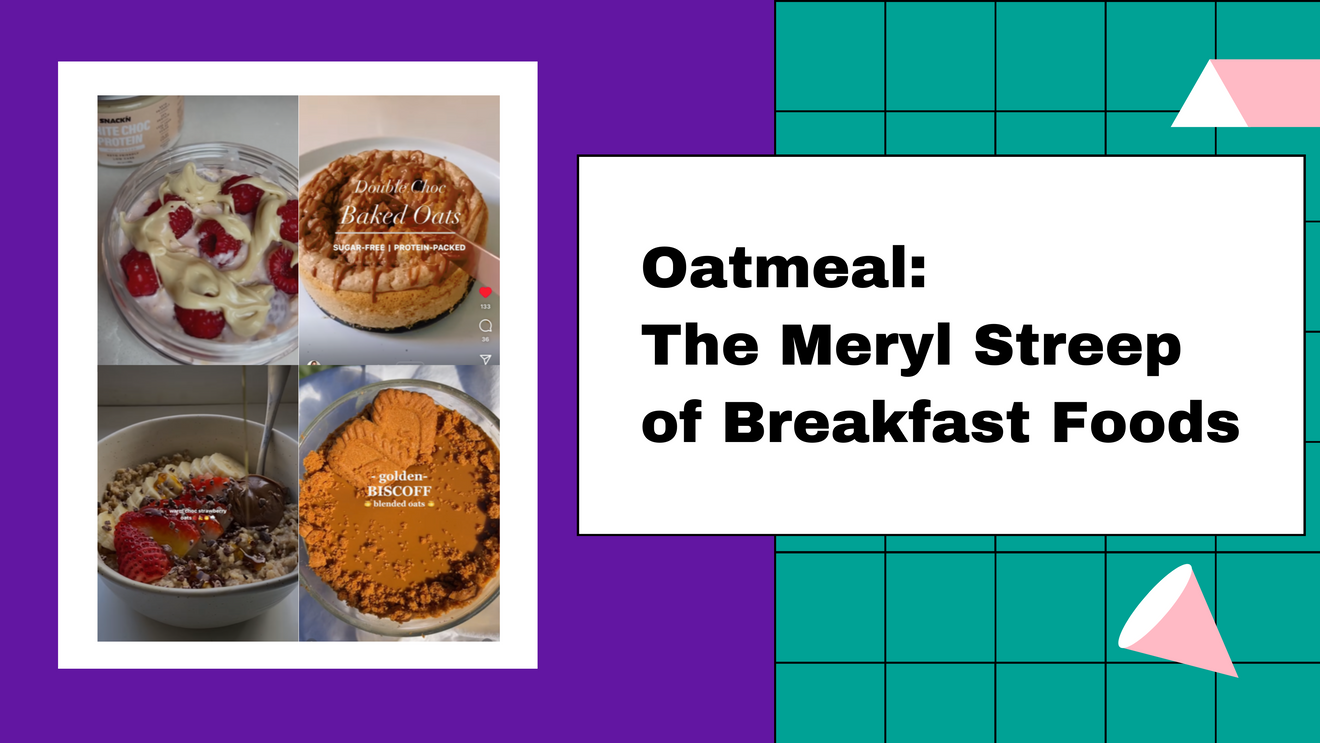 ---
Oatmeal is universally beloved because of its versatility and nutritious profile. Oatmeal can be sweet, savoury, crunchy, fudgy, and more! Much like how Meryl Streep is beloved by all, oatmeal is a household favourite across the globe.
Oatmeal can be enjoyed in so many ways- overnight, baked, blended, boiled, instant… The possibilities are endless.
Our favourite creators have shown us how they like to enjoy their oats so you can give it a go too!
Stovetop oats
Sometimes you just need to follow the age old adage: keep it simple, silly. 
Liv (@nourishwithliv) has made these nourishing and warm chocolate strawberry oats on the stovetop. Perfect for chilly days when you just want to cradle a warm bowl of goodness.
Ingredients:
1/2 cup of oats

1 tsp cinnamon
1/2 cup to 3/4 cup of oat milk
fresh strawberries
banana

@wearesnackn

milk choc nut spread 

maple syrup
Method:
Heat the oats on the stove with cinnamon and milk and cook until creamy.

Top with banana, strawberries, nut spread & drizzle with maple syrup!
Overnight oats
Alice (@aliceejane) has made delectable white chocolate and raspberry overnight oats. Perfect for if your mornings are go-go-go and you don't have time to sit and watch water boil.
 Ingredients
50g oats

80g Raspberry yogurt
10g White chocolate protein spread (Elite Supps)
10g Vanilla Whey (Elite supps)
Raspberries
Method
Mix together the oats, yogurt, and whey in a container
Top with raspberries and spread
Leave overnight
Enjoy!
Baked oats
Vanessa (@vanessa__genevieve) whipped up this incredible double choc baked oats that makes the concept of cake for breakfast perfectly reasonable.
 Ingredients:
40g rolled oats

1/2 scoop protein powder (I use

@optimumnutrition

Gold Standard Whey in Vanilla Ice Cream)

2 1/2 tbsp sugar-free maple syrup
1/2 tsp ground cinnamon
2/3 tsp baking powder
1/2 cup almond milk
20g

 sugar-free choc chips

20g

@wearesnackn

Milk Choc Protein Spread
Method:
Blend rolled oats on high speed. Add the rest of the ingredients (excluding sugar-free choc chips and choc spread) and blend until combined.

Stir in the choc chips. Add 2/3 of the oat batter to a greased mini cake tin, top with half the choc spread. Layer rest of the oat batter and bake at 180C for 20-25 mins.
Drizzle with the remaining choc spread. Spoon and enjoy!
Blended oats
Love the concept of an oatmeal cake but don't have the time (orthe willpower) to preheat the oven at 6am on a Tuesday? Try these overnight blended oats from Scarlett (@scarlactive)!
Ingredients
Oats
40g oats (blended into flour)

40g golden ice cream protein
250mL unsweetened almond milk
Toppings
40g smooth biscoff
2 biscoff cookies
Method
Mix your oats ingredients together. Make sure your oats are blended smoothly!

Set in fridge overnight or at least 2 hours.

Just before you eat it- melt biscoff jar in the microwave for 30 seconds and pour it over for the perfect layer

Let it set in the fridge for 5 minutes. Pop your cookies on top

Enjoy!
How do you like to eat your oatmeal?
---
← Older Post Newer Post →