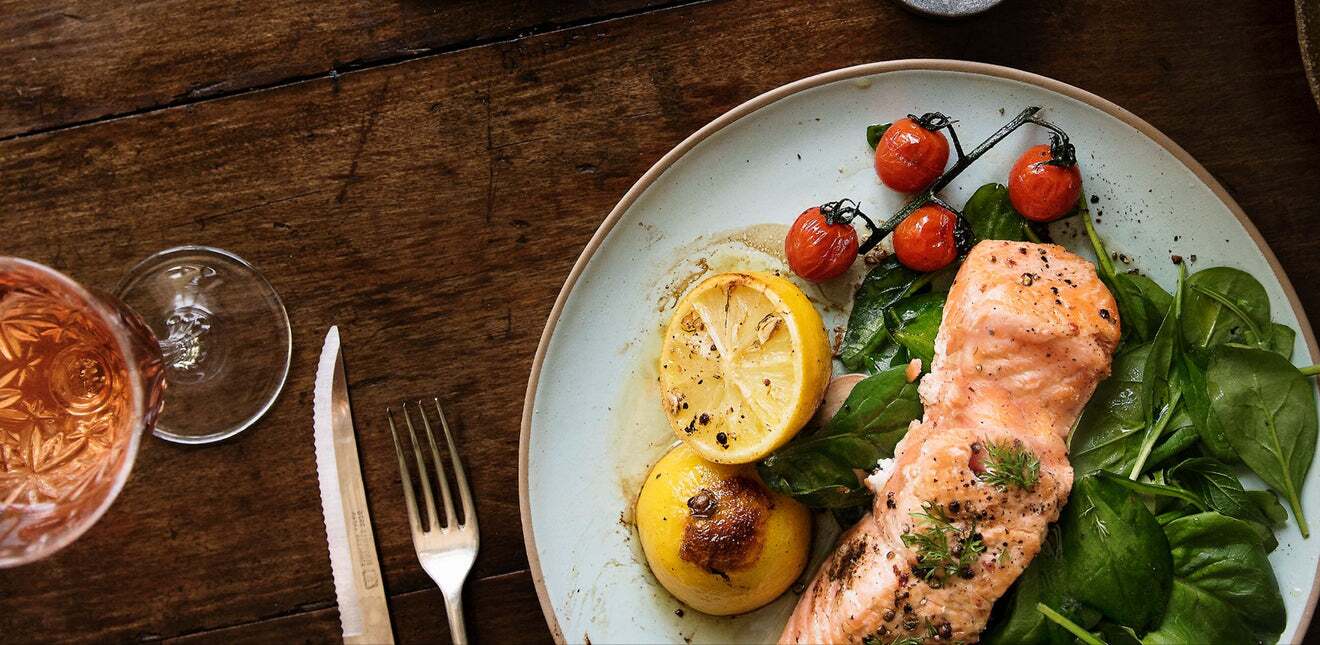 ---
When it comes to starting a new plan, focus on small manageable changes. Instead of replanning every meal, try and keep it simple, healthy & delicious. 
These are our
top 7 healthy recipes
that have been prepared by a dietician and average between 300-400 calories. Each recipe has instructions as well.
1. Veggie Omelette
2. Tuna Stuffed Italian Mushrooms
3. Grilled Fish & Veggies
4. Salmon with Kipfler Potato & Green Beans & Chive & Lemon Dressing
5. Chicken & Pumpkin Stir Fry
6. Parmesan Meatballs
7. Salmon Rocket Salad
1. Veggie Omelette
Healthy and simply delicious, this light and fluffy omelette is chock-full of fresh garden veggies and flavour.
Serves:
1 Person
Ingredients:
2 eggs
1/2 cup corn tinned kernels, drained
1 tsp. olive oil
100g low fat cottage cheese
1/4 brown onion, diced
2 mushrooms
1/4 bunch fresh spinach
1 tsp. chives, chopped finely
4 asparagus spears, chopped into 2cm lengths
Method:
Steam asparagus in microwave-safe container for 2 minutes in 2 tbsp. of water. 
Lightly beat eggs with cottage cheese in a bowl.
Heat a non-stick pan over medium to high heat, sauté onions for two minutes in olive oil and then pour in the egg mixture.
Gently lift edges of egg mixture around the sides of the pan when able to do so, so that uncooked egg slides underneath the cooked mixture at the bottom of the pan.
Sprinkle over top of omelette the corn, mushrooms, spinach and asparagus. 
Cover the pan with a lid and remove from heat to allow for residual cooking for about 2 minutes. 
Serve garnished with chives.
2. Tuna Stuffed Italian Mushrooms
Baked tuna-stuffed mushrooms that is never short on flavour but packed with everything that's good for you. Dive in!
Serves:
1 Person
Ingredients:
2 large flat mushrooms
3/4 cup cooked couscous
2 tbsp. tomato, diced
1 tsp. Italian herb mix
1/2 small brown onion
2 sprigs fresh thyme
Tabasco Sauce to your liking
1/4 cup low fat cottage cheese
For the Crumb:
4 tbsp. almond meal
2 tbsp. chopped fresh parsley
Zest of one lemon
Method:
Lay the mushrooms on an oven tray lightly spray with cooking oil.
In a bowl combine couscous, pasta sauce, onion and Tabasco and share amongst mushrooms.
Top each mushroom with a Tbsp of cottage cheese.
In a bowl combine almond meal, parsley and lemon zest and place on top of cottage cheese.
Bake for approximately 20 mins on 180 C oven and serve.
3. Grilled Fish & Veggies
Fresh Fresh Fresh! Satisfying home-style recipe packed with super healthy fresh ingredients.
Serves:
1 Person
Ingredients:
150g fillet of white fish (
dory, bream or barramundi
)
2-3 cups fresh or frozen vegetables:
 Carrots
 Broccoli
 Bok Choy
 Beans
 Red   Capsicum
2 tsp olive oil
Method:
Grill piece of white fish for 5 mins each side or until browned.
Stir fry mixed vegetables with olive oil.
Serve fish alongside vegetables.
4. Salmon with Kipfler Potato & Green Beans & Chive & Lemon Dressing
Wonderfully fragrant salmon drizzled with chive & lemon dressing and accompanied by Kipfler potatoes & Green Beans. This is easily made at home and deliciously fresh.
Serves:
1 Person
Ingredients:
1 tbsp. olive or coconut oil
1 tsp. chives
1 tbsp. lemon juice
200g green beans
4 small Kipfler potatoes
400g salmon fillet
Method:
Wash Kipfler potatoes under warm running water and place into a pot.
Cover potatoes with cold water and a pinch of salt and bring to the boil, once boiling, turn down and allow to simmer for a further 5-10 minutes (or until you can pierce with a small knife with a little bit of resistance) then strain from liquid and slice into 1cm thick rounds (The potatoes are able to be cooked a day in advance but do not slice until you need them).
Preheat oven to 180c.
Place a small pot of water with a pinch of salt on the stove and bring to the boil.
Place salmon in a non-stick pan and bake for approximately 5-7 minutes.
Remove salmon from pan and place the salmon somewhere warm put the pan back on the stove top with medium heat and add your sliced potatoes (remembering your pan handle will be hot) as they start to colour turn them over.
Add beans to boiling water and cook 3-5 minutes.
Remove potatoes from pan and place on to plate along with your drained beans and your rested salmon.
In the same pan again add your butter and allow to melt.
Add chives and the lemon juice pour this over top of your meal.
Finish with fresh cracked pepper and serve.
5. Chicken & Pumpkin Stir Fry
This dish is a fantastically delicious & quick nutritious and tasty meal.
Serves:
1 Person
Ingredients:
500g skinless, boneless chicken
breast, cut into strips
2 carrots, cut into matchsticks
1 bunch bok choy, chopped
1 cup pumpkin
2 tbsp. chives, chopped finely
2 tbsp. gluten-free soy sauce
1 red chilli, deseeded and
chopped finely
Juice of a lemon
1 tsp. brown sugar
1 tsp. sesame oil
1 1/3 cup cooked brown rice
Method:
Heat sesame oil in a pan over a medium to high heat.
Add chives and chicken.
Brown the chicken and then add the carrots and bok choy, stir fry for a couple of minutes, then add the pumpkin.
Add the soy, lemon, sugar and chilli, seasoning to taste.
Serve with 1/3 cup of rice
6. Parmesan Meatballs
This recipe is quick, easy and tastes great as simple and delicious meatballs should.
Serves:
1 Person
Ingredients:
2 tablespoon basil
1/2 cup parmesan
1/3 cup salt-reduced tomato paste
1 small none onion
1 other garlic
500 grams extra lean mince
2 tablespoon water
Method:
Chop onion and basil grate parmesan.
Mix all ingredients and separate mixture into even-sized meatballs.
Bake in the oven at 180˚C for 20-30 minutes or until nicely browned.
7. Salmon Rocket Salad
Smoked salmon, is lean, mean and flavoursome. It's loaded with omega-3s, protein, and an arsenal of other benefits. You can't go wrong with this delish fish.
Serves:
1 Person
Ingredients:
2 to 3 artichoke hearts, chopped
3/4 cup cherry tomatoes, halved
A few handfuls of fresh rocket
2 cloves garlic, minced
2 to 3 sprigs fresh thyme
1 tbsp. coconut oil
1 large salmon fillet
Method:
Fire up the grill and keep it at medium-low heat.
While the grill heats up season both sides of the salmon fillet with salt and pepper to taste.
Place on a sheet of foil (enough to wrap around the whole piece of fish) and drizzle with coconut oil.
Sprinkle the top of the fillet with minced garlic and place a few sprigs of thyme on top.
Seal the salmon in the foil and place on the barbecue.
Cook for 15 to 20 minutes until soft pink and flaky.
Meanwhile, in a large salad bowl, combine the rocket cherry tomatoes and artichoke hearts.
During this time you can also combine the ingredients for the dressing and set aside for later use.
Once the salmon has cooked remove from the grill and allow it to cool for a few minutes.
Using a fork, pull apart the salmon into smaller pieces.
Toss in with the rest of the salad.
Drizzle with the dressing and serve while the salmon is still a little warm.
---
← Older Post Newer Post →