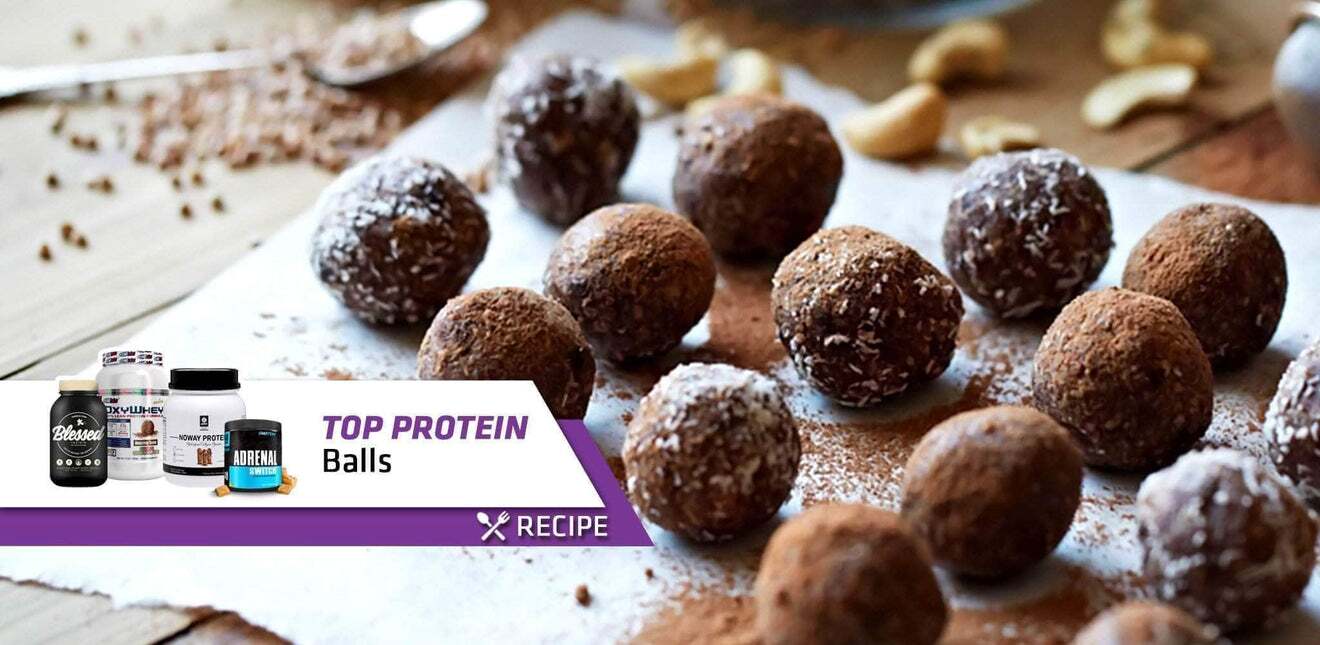 ---
Need a perfect easy snacking on the go? Check our protein energy balls recipes that will keep you satisfied for hours.
Protein powders are generally included in the daily regimen for physique sports and strength sports such as bodybuilding, but also in other sports such as football. Why? This extra protein hit helps muscles recover and helps them build, making you stronger and healthier overall.
If you have been at this for a while, you know that simply drinking your protein shake can get repetitive. Here are a  few tasty protein ball recipes for you to try! Protein powder can do great things in the kitchen, provided you know a little bit about what you are doing
EHP Labs Blessed Vegan Protein Balls
Protein has been recognized as a muscle building and repairing aid, and is also one of the main nutrients to keeping hunger at bay, but vegans often wonder how they can fit this into their diet. Luckily, there's a very tasty solution – protein balls!
Whilst protein balls used to be a bit tough and bland (and frankly, many of the packaged varieties still are), there are loads of vegan protein ball recipes that are rich, fudgy and packed with the flavors of your favorite - here's one from EHP Labs Blessed Vegan Protein Balls
Ingredients:
1 cup EHP Labs Choc Coconut Protein⠀
1 cup Almond Meal⠀
2 tbsp Cacao Powder⠀
1/3 cup Melted Coconut Oil⠀
1 tbsp Stevia⠀
Method:
Combine into balls and roll in coconut - That's it!
Cookie Dough Gut Right Protein Balls
Healthy cookie dough? Sign us up! These chocolate chip cookie dough protein balls are the perfect pre/post-workout snack.


Nutrition Per Serve:
Calories: 130
Carbohydrates: 19 g
Fat: 2.25 g
Protein: 9.9 g
Ingredients:
11/2 cup nut butter / I used Almond
3 tablespoons Gut Right
2 scoops of Noway Protein Powder
1 tablespoon extra virgin coconut oil, melted
1/4 cup pure maple syrup
1/2 cup dark chocolate bits
Method:
Combine all the ingredients in a bowl and mix well, scoop out tablespoon lots and form them into balls, place them in the fridge until they harden.
Choc Adrenal Balls
Everyone loves chocolate and coconut together, right? Make these protein-filled snack balls for a tasty guilt-free snack
Ingredients:
1 cup Almonds
1/2 cup Shredded Coconut
2 tbsp Cacao Nibs
4 Medjool Dates
2 tbsp Cacao Powder
4 scoops Switch Nutrition Adrenal Switch - Chocolate
2 tbsp Coconut Oil
2 tbsp Peanut Butter
1/2 tsp Vanilla Extract
1/4 tsp Sea Salt
Almond Meal or Desiccated Coconut (to coat balls in)
Method:
1. Process Almonds, Coconut, Nibs, and Dates until finely chopped.
2. Add remaining ingredients and process until mixture begins to clump together (if it is too dry add a little almond milk or water).
3. Roll into balls and coat in Almond Meal or Desiccated Coconut.
4. Refrigerate and enjoy!
Ingredient Peanut Butter Protein Balls
Cocoa powder and peanut butter – it sounds almost like a cake, and that's pretty much how these taste! To make these fudgey-textured balls look a bit fancier, just roll them in some desiccated coconut

Ingredients:
1.5 cup EHPlabs Chocolate OxyWhey Lean Protein (Get yours here!)
1 cup Raw Peanuts
2 tsp Peanut
1 tsp Cocoa
20/30 ml Water
Desiccated Coconut
Method:
1. Combine all ingredients in a blender bullet
2. If it goes too dry and crumbly, add a little extra water.
3. Once blended, roll into bite-sized balls.
4. Roll through desiccated coconut.
5. Place on baking tray and freeze for 1-2 hours.
What is your favorite energy ball flavor? If you have a recipe you absolutely love, share your recipe with us at enquiries@elitesupps.com.au
---
← Older Post Newer Post →