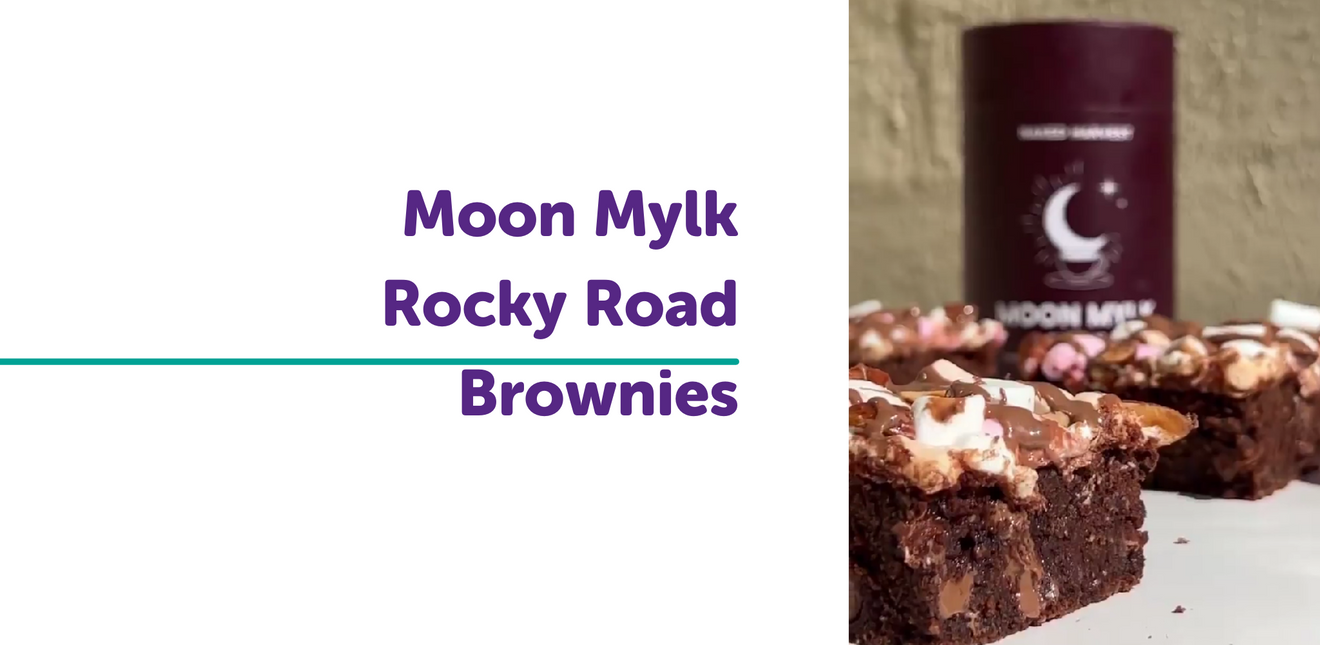 Moon Mylk Rocky Road Brownies
Posted in All by Donnelle Brooks
---
We love a delicious sweet treat - and we love it even more when it's healthy too. This soft delicious brownie recipe is so luscious and fudgey - our mouths are watering just thinking about it. The hardest part about making this recipe is waiting for it to finish cooking once the scent of chocolate starts permeating your kitchen. 
This recipe was created by Lily Turton using Moon Mylk in Rocky Road flavour. We reckon it will work just as well using any flavour from the Moon Mylk range.
created by @lilyturtonfit 


Ingredients
BROWNIE
🤎 1 & 1/2 cup self-raising flour
🤎 1 cup sugar
🤎 1/4 cup cocoa powder
🤎 1/3 cup Rocky Road Moon Mylk
🤎 3 eggs
🤎 1/2 cup coconut oil
🤎 1/2 cup milk
🤎 1 cup chocolate chips
.
TOPPING
🍫 1 & 1/2 cups mini marshmallows
🍫 1/2 cup chocolate chips
🍫 1/3 cup roughly chopped roasted almonds.
🍫 60g melted chocolate


Method
Sift all dry the brownie ingredients into a bowl (except the chocolate chips). Combine wet ingredients and mix well. Fold in chocolate chips.

Pour into a greased and lined baking dish and spread evenly

Bake for 35mins at 180 degrees Celsius.

Immediately after taking it out of the oven, lightly press marshmallows, chocolate chips and almonds into the brownie cake and drizzle with melted chocolate.

Rest for 30mins,serve and ENJOY! 
Makes 16 servings 
Macros Per Serve 
Calories 331
Protein 6
Carbs 42
Fat 16
Find the logging details for this recipe on Myfitnesspal
What we love most about Naked Harvest's range of supplements is their emphasis on natural, allergy friendly, ingredients. Moon Mylk is available in 4 delicious flavours and 2 sizes. Want more Naked Harvest Moon Mylk recipes? Check out these delicious double choc chip Moon Mylk cookies.
Shop the Naked Harvest range here.
---
← Older Post Newer Post →