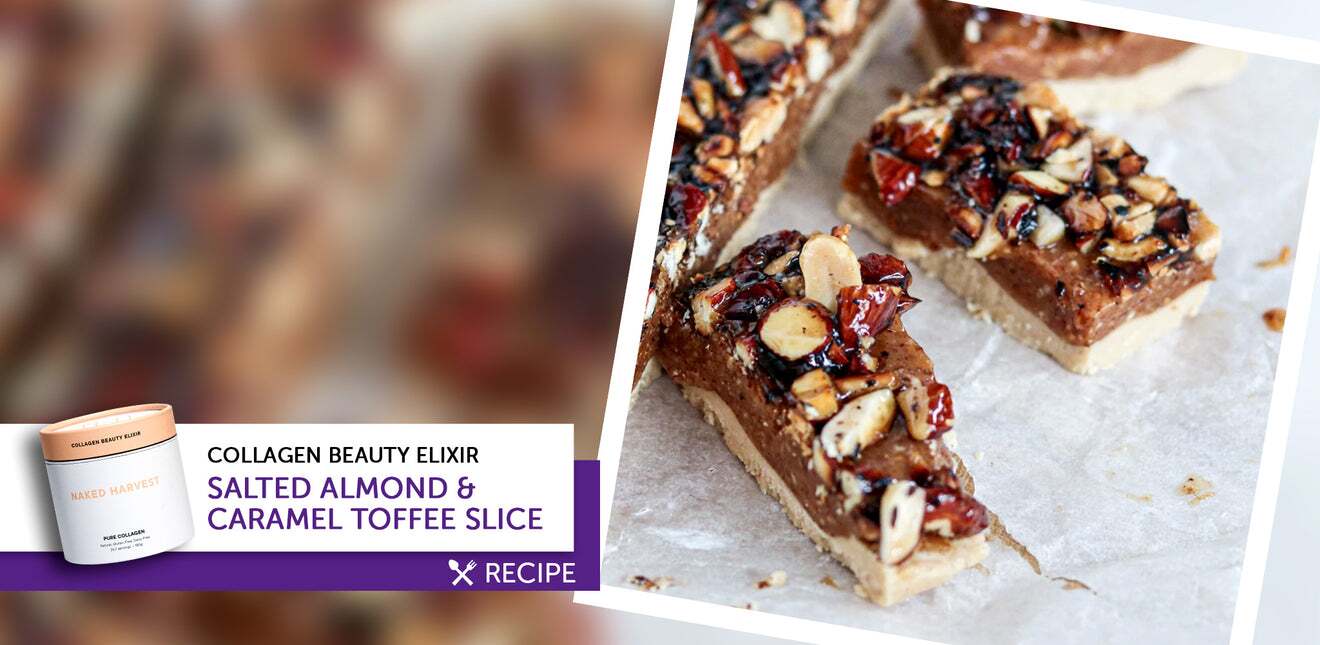 Salted Almond & Caramel Toffee Slice w/ Collagen Beauty Elixir
Posted in All by Elite Supps
---
Indulge your sweet tooth with the irresistible combination of crunchy salted almonds, sticky toffee and sprinkling of salt for a fantastic sweet and salty experience. Add Naked Harvest Collagen Beauty Elixir for a healthy extra goodness. Enjoy a slice for an afternoon pick-me-up.
HERE'S WHAT YOU'LL NEED:
BASE: 
150g almond meal

1/3 cup soy milk 
TART FILLING: 
salted almond caramel

3/4 cup almond butter

1/3 + 1tbsp cup rice malt syrup

2-3 tsp vanilla

Dash of soy milk

Pinch of salt
TOPPING:
1/2 cup mixed nuts

2-3 tbsp maple syrup

Sprinkle of salt
HERE'S HOW TO MAKE IT:
In a bowl mix together the base ingredients with a spatular until combined thoroughly. In a small lined baking tin, press base into a thin layer across the bottom of the tin (0.5 - 1cm thickness, roughly).

Pop into the freezer to set. In the meantime, in a operate bowl, add all ingredients for the almond salted caramel and thoroughly combine until you reach a silky texture.

Remove base from freezer and cover bottom later with the caramel, and return to the freezer to continue to set.

Over a medium heat, add the nuts to a small pan, keeping a watchful eye over them, ensuring to turn consistently so they do not burn.

Once beginning to brown, add maple syrup and salt, stirring continuously until the maple syrup is bubbling and starts to cook down. 

Remove from heat and top the salted caramel layer and return to the freezer to set for minimum of 2 hours. Once set, remove from freezer and chop into bite size pieces or bars. 
---
← Older Post Newer Post →